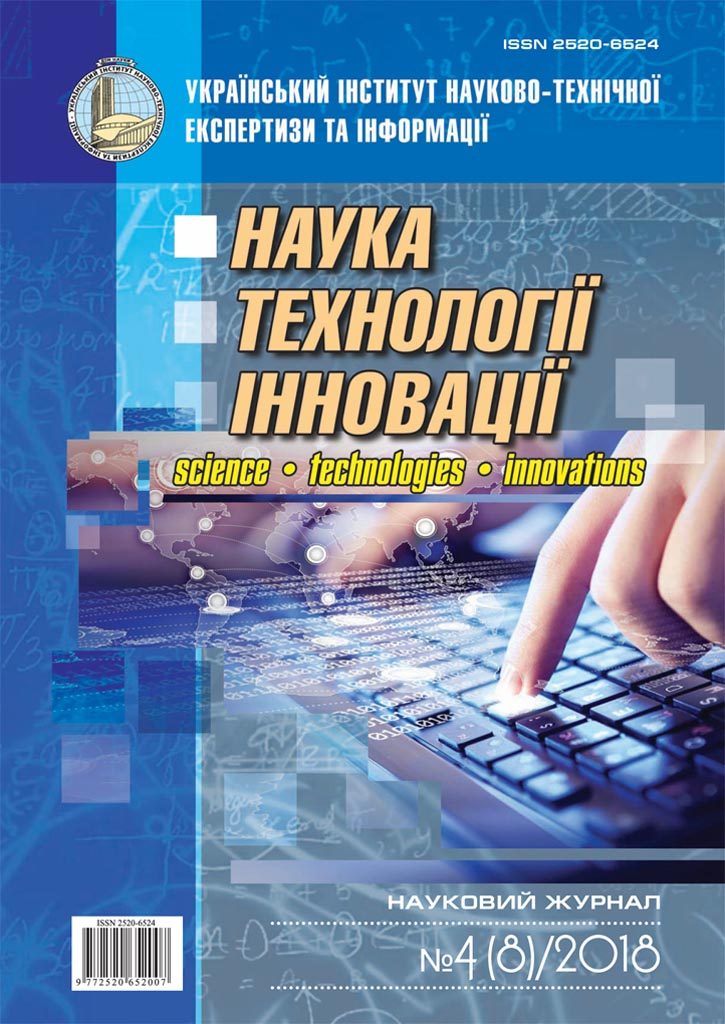 The journal "Science, Technologies, Innovations" covers the interrelated issues of scientific and technological activities, intellectual property, scientific and technical expertise, public policy in the field of innovative development and the problems of introducing scientific advances into production.

Article problems:
– Problems of scientific and technological activities
– Innovative economy
– The development of a national innovation system
– Informational technologies
– Intellectual property
– Technology transfer
– System analysis and decision making
– Ergonomics and models of activity
Chief Editor – Kamyshyn V.V., D. Sc. in Pedagogy, PhD in Engineering.
Founders:
Ukrainian Institute of Scientific and Technical Expertise and Information;
H.M. Dobrov Center for Scientific and Technological Potential and Science History Studies of the NAS of Ukraine;
Ukrainian State University of Chemical Technology.
ISSN 2520-6524
Journal is included to the List of professional editions in Ukraine, where the results of dissertations on economic sciences can be published:
– Order of the Ministry of Education and Science of Ukraine № 886 dated of 02.07.2020
The Editorial Board of journal «Science, Technology, Innovation» follows the recommendations of the Code of Conduct from the Best Practices of the Committee on the Ethics of Publication (Code of conduct and best practice guidelines)  Elsevier publishing principles. Our ethical principles and attitudes towards plagiarism are reflected in the Publication Ethics.
State registration certificate: KV no. 22498-12398P from 13.01.2017.
Frequency: 4 times a year.
Founded – 2017.
Language of edition: Ukrainian, English.
e-mail: journal@uintei.kiev.ua
SCHEDULE OF ACCEPTANCE OF ARTICLES IN 2021
| | | |
| --- | --- | --- |
| No. | Deadlines for submission of materials | Approximate terms of printing |
| 1 | 4 March | 28 March |
| 2 | 7 June | 28 June |
| 3 | 6 September | 27 September |
| 4 | 6 December | 25 December |